Controls are many, of all types, functions and appearance, but curiously does not exist yet one that is able to control all the "smart" devices that we have at home, ranging from blinds, light bulbs, speakers, air conditioners and more, this is mainly due to the platform on which are developed and sometimes is not compatible with other systems.
With the idea of solving this conflict is how the company Mu Design we want to offer the ultimate universal remote for connected homes, where the best of all is that there seems a remote, because its appearance is that of a lovely bear that in turn will serve to decorate our home.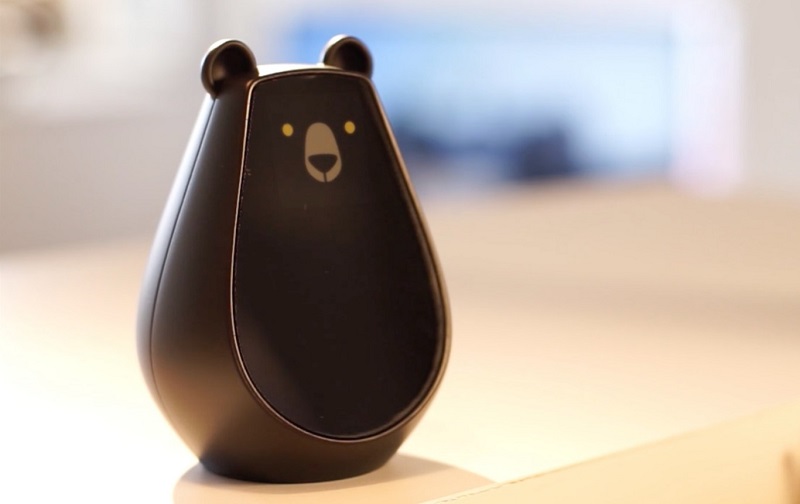 Bearbot, at last a universal remote that we need not touch
This is something they have called Bearbot, but do not be fooled by the name because it is no robot, is a control equipped with a split into two parts screen: at the top we found a TFT panel 1.44 inch which serves to show the faces and expressions of a bear; and at the bottom we have a 3D driver that serve to detect motion and activate functions only with hand gestures.
It is compatible with standard Bluetooth connections, infrared and ZigBee, which will control the vast majority of home devices without any problem; it is also compatible with the technology of wireless charging Qi so we can upload it to your own base by means of magnetic induction, or using bases or furniture we have with this technology.
All this is in terms of the original version of Bearbot, since there is also a mini version that has no display and functions as a repeater base signal ideal for use our Bearbot houses large, only to be noted that this version mini uses a pair of batteries and their connection is based only on infrared.
You may also like to read another article on DuckysDesktop: Samsung has a cute assistant robot that is ready to receive orders at home
The attractive part of Bearbot is that we do not need to touch him or talk to activate functions, everything is controlled through gestures directly on your screen, which when activated or received will be displayed as a reaction in the face of the bear, what which makes it fun and original.
In it we can control a lot of devices, since everything is based on a compatible mobile application iOS and Android that will help us to set up our command-bear with every time we need to add a new device, because from that moment everything will be done through Bearbot.
Bearbot currently seeking funding through a campaign Indiegogo, which pursues a goal of 199,000 dollars according to its creators serve to jump-start the project and have the first commercial products by the end of 2017. If you wish to become a Bearbot and step support the campaign, they will have to shell out 99 dollars or, 129 dollars for the kit that includes a mini Bearbot and Bearbot.
Note that the product has not yet been funded so the risk that when purchasing a Bearbot lose our money, an ever – present risk crowdfunding campaigns run.