An Earlier this year Monitor Audio announced the launch of a new creation of compact speakers that would match the second generation of the MASS model of the brand and would arrive in spring.
We already have more technical data and prices (for now in dollars) for the arrival to the market starting next May of this, a priori interesting, system prepared for multichannel sound.
MASS is basically a set of 5.1 speakers consisting of 5 passive satellites (we will need a dedicated amplifier or AV receiver) plus a wired active subwoofer that will handle low frequencies.
It is focused on mounting a home theater system in a simple and mid-range, although as we will see below the specifications of the satellites are not too spectacular.
Satellite speakers
Designed in an ultra-compact format, they are reminiscent of the old speakers that began to be sold a couple of decades ago with the first Dolby Digital systems. However, they have a better finish in acoustically transparent fabric that hides the electronics, even in the back with the cable connections.
The kit includes 5 satellite speakers, all identical in shape and features with some improvements compared to the previous generation of the brand. A sealed box configuration made of ABS plastic and MDF wood has been chosen to house a two-way set on each satellite, consisting of a 3.5-inch woofer accompanied by a 0.75-inch tweeter.
Both are able to offer a frequency response between 105 Hz and 34 KHz in each speaker, so they necessarily need a subwoofer that complements the lower frequency range. The problem is that with 105 Hz the sound is partially directional, so in theory (you will have to listen to them before to be able to affirm it with completeness) an image and separation of the effects will not be achieved as effectively as that obtained with speakers that are capable of lower more.
As for the power, they are capable of supporting an amplification of 30 watts RMS in each of the speakers of the set.
The MASS subwoofer
The next great element of the kit is the subwoofer, in charge of the low frequencies and that has been designed with a cubic shape with rounded corners and covered by the same fabric as the rest of the set's speakers. It has been built with 18 mm thick MDF wood in sealed box design, which provides a lower frequency extension but a faster and more controlled response.

Specifically, according to its specifications, it is able to lower up to about 35 Hz thanks to an 8-inch driver designed to withstand large elongations of its membrane. The amplifier has been incorporated in the back of the box and offers a power of up to 120 watts RMS thanks to a class D stage.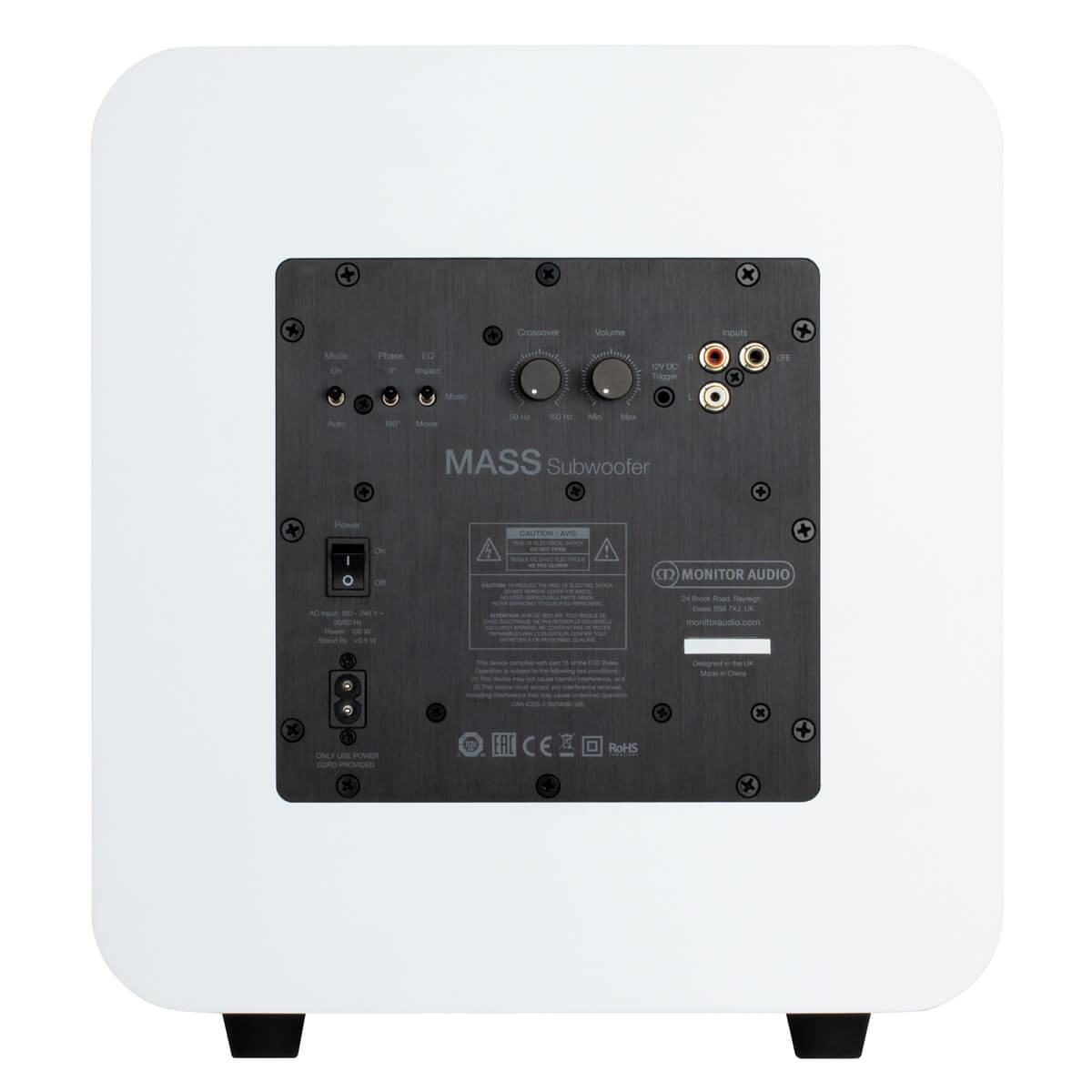 Price and availability
The new Audio Monitor MASS sound set will arrive to distributors starting in May in two different fabric shades (Midnight and Mist) and for a recommended price of $950. In addition, you can also buy pedestals specially designed for satellite speakers for a price of $160 per unit.