Ozone remains strong betting on the gaming world, launching this time of a compact mechanical keyboard with red LED backlit, The Ozone Strike Battle.
The Battle Strike offers a full range of Cherry MX switches, so that the user can select the desired one to suit your taste (blue, black, brown and red). And its ergonomic and compact design ensures a very comfortable by allowing free space on your desktop use.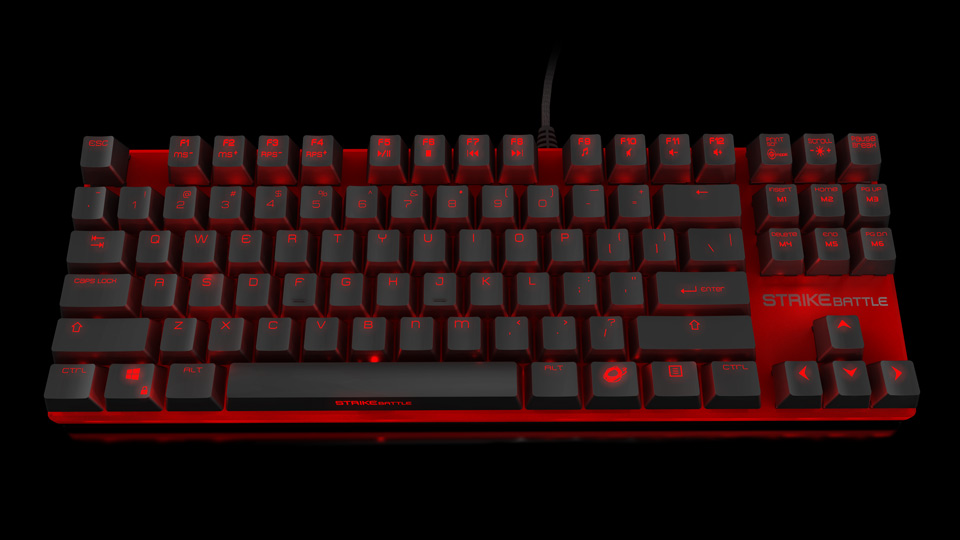 Ozone Strike keyboard features Battle
The minimalist and compact design of this keyboard 'gaming' make this the ideal product for use in competitions anywhere in the world without having to give up the quality of a mechanical keyboard. But let's take a more comprehensive look at its main features:
Ozone Strike Battle, LED backlit keyboard
The Strike Battle has red backlit keys, offering the gaming environment every player looking to find in the products you purchase for your playtime.
Lifecycle of 50 million keystrokes
Next to the metal casing, this feature allows players to enjoy a lasting keyboard, and turn tough.
30 Macros in five profiles thanks to 64 Kb of internal memory
The keyboard allows you to configure up to 30 different macros in five profiles. The profiles allow us to have different configurations to adapt to different types of keyboard as MOBA game, FPS, or MMO. The keyboard also has 64 KB of internal memory to save settings and use where needed.
Compact mechanical keyboard
In addition to being mechanical, thanks to its compact design is the ideal product to bring all events without any worry.
Frequency response USB adjustable
Ozone Strike Battle keyboard allows to vary the frequency response of the USB between 125 Hz – 250 Hz – 500 Hz Hz -1000.
Anti-ghosting system
Provides perfect control over all our actions, the keyboard will detect any press to do whatever keys you press simultaneously.
Function G-ODE
This option allows you to disable the Windows key on the keyboard so as not to give rise to any setback for the game.
Multimedia keys
No matter if required increase or decrease the audio from your music or video or mute the microphone with keyboard shortcut multimedia control over all settings to provide more comfort to the user is achieved.
Availability and prices
The new Ozone Strike keyboard Battle is available for about $110. What do you think of the new Ozone Strike keyboard Battle? If it makes you are one of these keyboards can share your opinion about it in the comments of this post.