We have in our buying guide how to build drones competition as one. But although the process of thinking, acquire and assemble each component of a drone is part of the appeal of this hobby, some people prefer to play it straight and fast and buy a drone racing ready to fly (RFT) or ARF (Almost Ready to Fly). We have selected seven of the best models you can already buy to start your new hobby.
Things to consider to buy a drone competition
In our previous meeting with the drones of competition we tell you what we observe and assess ourselves to mount a drone racing. The vast majority of sections in which we set ourselves are repeated when choosing a drone racing ready to fly (Ready to Fly, RTF).
Drones competition in the priority is the strength, speed, agility and facility to replace parts, either by failures or improvements.
In racing drones ready to fly, it will normally be at least the chassis, which should preferably be carbon fiber, motors and drives, propellers, controllers and usually also the camera for FPV system. Depending on the model and budget, we must add other items such as batteries, glasses for FPV and station.
With these settings, in addition to save much of the most complex assembly, calculations drives, motors or controller configuration and come standard, so the start of the flight is more direct.
Seven drones race to start competing
If we are determined to buy a drone racing to place batteries and station and get to fly, here we leave you with seven of the best models on the market, as we seek and our budget.
Walkera Runner 250
One of the earliest and best-known models of drones racing ready to fly we recommend if you want good performance to get started and zero complications. The settings can be varied but the basic kit Walkera Runner 250goes for all inclusive except FPV glasses.
This drone racing comes complete with carbon fiber chassis, engines, propellers, radio Devo 7 lighting, and battery 25c lipo 3s and 800 TVL camera.This drone has a range of 1 km and is capable of flying at a maximum of 40 km / h.
Lumenier QAV250 G10
A classic races with multiple drones imitators. The model Lumenier can buy both pieces and ready to ride, it would be our choice in this case. If we have many accidents we can very easily get parts to repair it.
The RTF kit QAV250 G10 is the classic RTF systems. It consists of carbon fiber chassis, engines and everything you need to fly if we want FPV. We just have to add our station and battery we prefer, they are two elements that always want to customize. Add the FPV part is very simple because the distributor plate is ready to include the camera and video transmitter.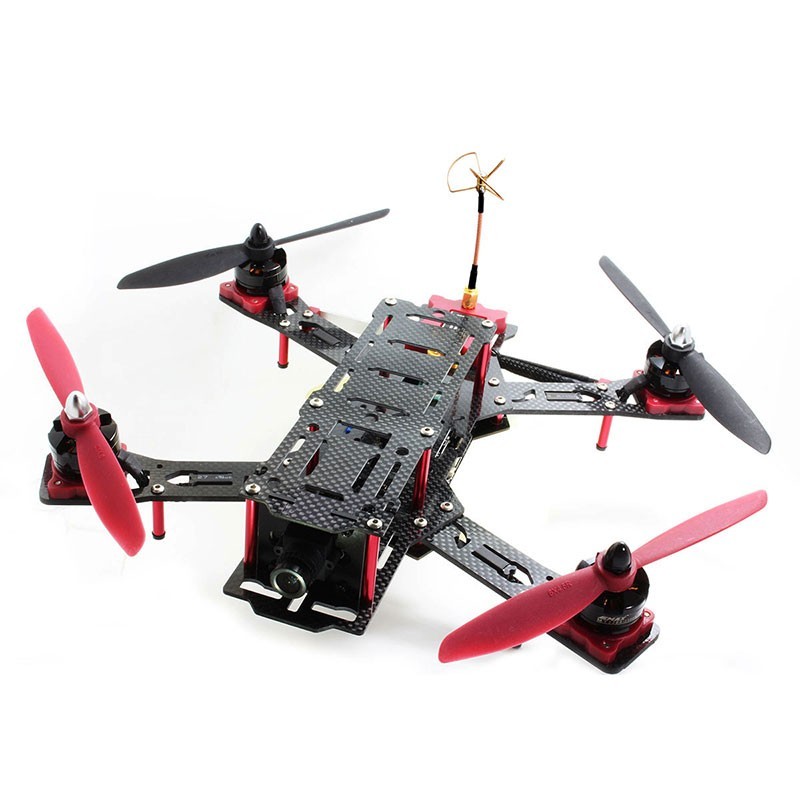 Pro 280 Nighthawk
Battery and transmitter (and FPV glasses) is all you need to add to this drone Emax, one of the most comprehensive and affordable to get started in racing flying drones.
The Nighthawk Pro 280 also has base structure of carbon fiber and 1300 KV engines, guaranteeing us a key agility for a drone racing. As controller includes Skyline32 and comes ready to use with FPV system as it includes chamber (700 TVL) and transmitter, which can adjust the power to save battery.
Vortex ImmersionRC 250 PRO
Another classic racing drones is the Vortex 250 Pro of ImmersionRC, a model you should consider if you intend to take seriously the issue of race.You only need your favorite battery (supports up to4s) and the transmitter / receiver.
You may also like to read another article on DuckysDesktop: Racing drones, thus is born of a new and dramatic technological sport
Chassis, arms, controller … all inclusive is first rate and includes black box and type system to mount a GoPro camera. It is also a drone ready for FPVcamera 700 TVL.
FPV Falcon 250 Eachine
People Eachine introduced recently, their latest and advanced drone racing. The Falcon FPV 250 is a relatively affordable for its characteristics. It has carbon chassis, powerful engines with variable 2300KV 20A for great flight speeds, controller CC3D and 700 TVL camera ready to use with FPV systems.
This drone is one of the most complete RTF -called because even comes with issuing a Flysky FS-i, and suitcase on the version you can buy in Banggood.
Quanum Outlaw 270
Another model that can buy in Hobby King is an excellent alternative if we want a drone to run without overspending.We just need a battery and the issuer prefer.
This drone Quanum Outlaw 270 has carbon chassis, 6-inch propellers and engines KV 2150 20A ESC. The controller is a CC3D, easy to set up if we have no experience. An interesting extra is the integrated distribution plate and BEC.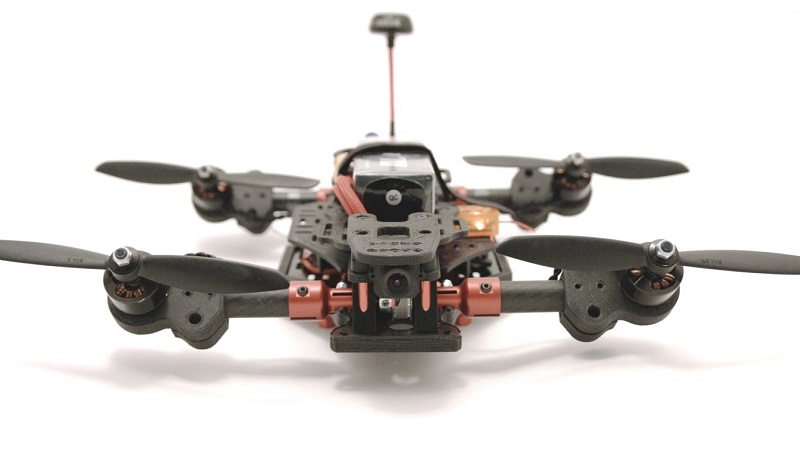 TILT X8
We just got our selection with a fairly different from the previous model. It is the Tilt X8, a fairly expensive model to be racing team but tremendously powerful level. It is also a model with which we can regulate the inclination of the engine, open source and housing carbon fiber printed in 3D and we can improve with designs from the community.
The Tilt X8 reaches 100 km / h in less than 4 seconds and its tip is 110 km / h, with a battery life with the standard of 8 minutes. Camera features 600 TVL and 32 transmitter channels.